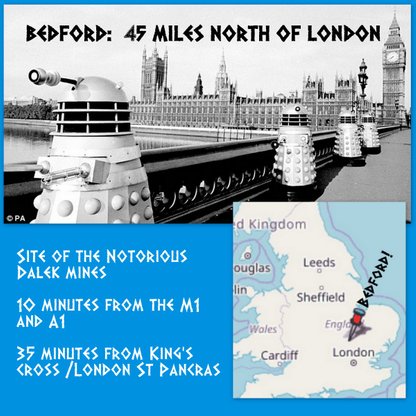 Bedford is a medium-sized town in the UK, about 50 miles north of London. Transport links are good; fast trains from London St Pancras take just 35 minutes and the town is only ten minutes from both the M1 and the A1.
The M1 and the A1 make Bedford easily accessible from London, the Midlands and the North of England. There are direct trains from Luton and Gatwick Airports.
The Kings House is on Ampthill Road, Bedford MK42 9AZ. This is on the south side of the town. Ampthill Road is the A6, accessed by the turn off from the A421, the Bedford bypass linking the M1 and the A1. The King's House is about a mile and a half from the main railway station (about half an hour's walk). If you want to get a bus from the railway station to the venue, you need to walk across to Bedford bus station (five minutes' walk) and get the bus to Elstow Park and Ride. There are two buses an hour. Elstow Park and Ride is on the A6; when you get there, you'll need to walk 500 yards north to get to The King's House. (There's also a taxi rank at the railway station.)

(The venue is closer to Bedford St John's railway station, but this is a branch line and the train services are infrequent. Probably best avoided unless you're used to using it!)
The convention's doors will be open from around 9.15 a.m.; earlier if we can manage it. The event starts at 10.00.
DRIVING:
Bedford is right between the A1 and the M1 (and there's a fast dual carriageway linking the two to Bedford); it's about 45 minutes' drive from the M25. Both roads tend to be pretty fast on Saturdays.
There is parking available at the venue; please arrive in good time to be assured of a space. Priority will be given to disabled parking and to the guests. We'd encourage you to use the Elstow Park and Ride car park, which is on the same road as the convention venue, and walk the 500 yards north to The King's House.

TRAINS:
Trains to Bedford are excellent and frequent. London trains go from St Pancras / King's Cross (the two stations are next door to each other and are linked); fast trains take just 35 minutes and stopping trains take just under an hour. (Adult day return ticket is £17.10*.)
There are direct trains from Brighton -- and from Haywards Heath and Gatwick Airport. These are frequent, too. (If you're coming from Brighton, you can get an adult Saturday off-peak day return for £24.40*.) The Brighton to Bedford train also stops at East Croydon, St Albans, Luton Airport and Luton and you can join the train there.
Coming from north of Bedford, there are direct trains from Nottingham (1 hour 10 minutes away, adult day return is £40.60*)
and from Loughborough (under an hour; adult day return ticket is £37.30*)
and Leicester (also under an hour; adult day return ticket is £34.60*).
Remember that return tickets are much cheaper on Saturdays than during the week. Do shop around online for the best deal for train tickets; booking in advance can save you a great deal.
BUSES AND COACHES:
Good services - all these are on the X5 luxury coach, operated by Stagecoach - from:
Oxford (£15.00 adult return*)
Cambridge (£12.80 adult return*)
Buckingham (£12.80 adult return*)
Bicester (£15.00 adult return*)
Milton Keynes (£12.80 adult return*)
There is also a regular bus from Northampton (Stagecoach bus 41, £10.00 adult return*).
* These prices are correct at the time of posting.